COVID-19 Information and Resources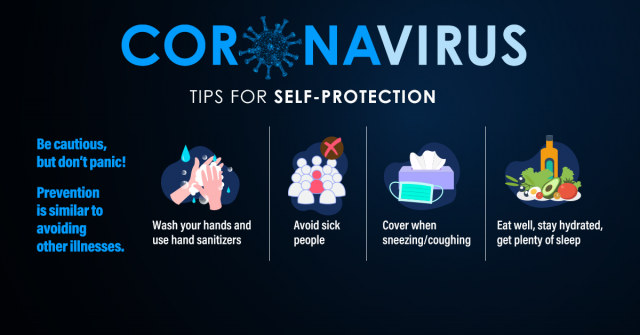 COVID-19 Information and Resources
As the novel coronavirus (COVID-19) situation in Santa Clara County and across the State of California changes, our community is understandably anxious and looking to public health officials for guidance. The California State Legislature is working closely the Governor to mitigate the spread of COVID-19 and protect our most vulnerable community members.
Due to the rapidly evolving nature of this pandemic, we strongly recommend that you refer to the Santa Clara County Public Health Department, California Department of Public Health, and Centers for Disease Control and Prevention webpages for the most up-to-date information from public health experts. For comprehensive information on statewide orders and actions, please visit covid19.ca.gov. 
As always, do not hesitate to call my office at (408) 446-2810 or email Assemblymember.Low@assembly.ca.gov with any questions. My team is working diligently to assist all our constituents in need.
Quick Guide
---
Legislative Action:
The California State Legislature passed Senate Bill 89 and Senate Bill 117 to provide up to $1 billion in funding to help California fight COVID-19. This money will be used to: 
Increase hospital bed capacity and purchase medical equipment to prepare for the coming surge in patients;
Protect hospitals, nursing homes, and other facilities most vulnerable to COVID-19 spread;
Provide lifesaving services to Californians isolating at home; and,
Provide funding to clean childcare facilities that remain open.
To help local governments reduce the spread of the novel coronavirus in homeless populations and provide safe beds for people experiencing homelessness, the California Homeless Coordinating and Financing Council allocated over $7.4 million to the City of San Jose and Santa Clara County. 
SB 117 provided $100 million to schools across California for personal protective equipment and cleaning supplies. It also allows our schools to maintain funding despite service and attendance disruptions.
---
Santa Clara County Shelter at Home:
On March 16, 2020, the Santa Clara County Public Health Department issued an order to shelter-in-place with the intent to maximize the number of people self-isolating. Essential activities, government functions, and businesses will be exempt. This order is necessary to reduce the transmission risks of COVID-19 while the county waits for more widespread testing to become available. The order will take effect at 12:01 AM on March 17, 2020 and continue until 11:59 PM on April 7, 2020, unless extended or rescinded. 
Essential Businesses & Workers
Section 10 of the order defines "Essential Activities and Businesses." For more detailed information on the shelter-in-place order, please read the FAQs at this link. Grocery stores, food banks, farmers' markets, pharmacies, hospitals, clinics, healthcare facilities, hardware stores, and banks will remain open. 
Governor Newsom has also issued detailed guidance on "Essential Critical Infrastructure Workers," accessible at this link. 
---
The State of California is partnering with Verily to screen those in the Bay Area interested in being tested for COVID-19. To learn more about Project Baseline by Verily visit this link.
As always, patients who have severe symptoms, such as fever, cough, or difficulty breathing, should seek care immediately. Older patients and individuals who have underlying medical conditions or are immunocompromised should contact their physician early in the course of even mild illness. Mildly ill patients are encouraged to stay home and contact their healthcare provider by phone for guidance about clinical management. 
---
Clean your hands often and thoroughly
Wash your hands with soap and water for at least 20 seconds especially after blowing your nose, coughing, or sneezing.

Cough and sneeze into tissues or the inside of your elbow.

If soap and water are not available, use hand sanitizer that contains at least 60% alcohol.
Things to avoid
Avoid touching your eyes, nose, and mouth with unwashed hands.
Avoid close proximity or contact with people who are sick, especially if COVID-19 is spreading in your community.
Avoid going to work or public spaces when you are sick.
Protecting yourself and others
Again—Stay at home if you are sick, except for medical care.
If you are sick, wear a facemask when you are around other people. The virus spreads through respiratory droplets when an infected person coughs or sneezes.
If you are NOT sick, you do NOT need to wear a facemask unless you are caring for someone who is sick.
Clean and disinfect frequently touched surfaces daily, such as:

Doorknobs and handles
Light switches
Phones and keyboards
Faucets and sinks
Desks and countertops

EPA-registered household disinfectants, diluted household bleach solutions, and alcohol solutions will all suffice. For more guidance on disinfecting, see the CDC's recommendations here. 
---
Some individuals are at higher risk of contracting COVID-19. The Santa Clara County Public Health Department recommends that these vulnerable populations stay at home, avoid traveling on cruises and airplanes, and avoid large gatherings. These populations include:
Adults over the age of 50
People with underlying health conditions (regardless of age) such as:

Cardiovascular disease
Chronic lung diseases
Heart disease
Cancer
Weakened immune systems
---
The State of California is taking proactive steps to ensure that workers affected by COVID-19 are protected from discrimination and understand all the benefits available to them.
If you're unable to work because you are caring for an ill or quarantined family member with COVID-19 you may qualify for Paid Family Leave (PFL).
If you're unable to work due to medical quarantine or illness, you may qualify for Disability Insurance.
Those who have lost a job or have had their hours reduced for reasons related to COVID-19 may be able to partially recover their wages by filing an unemployment insurance claim.
If a worker or a family member is sick or for preventative care when civil authorities recommend quarantine, workers may use accrued paid sick leave in accordance with the law.
If workers are unable to do their usual job because they were exposed to and contracted COVID-19 during the regular course of their work, they may be eligible for workers' compensation benefits.
All information and resources can be found at Labor.Ca.Gov/Coronavirus2019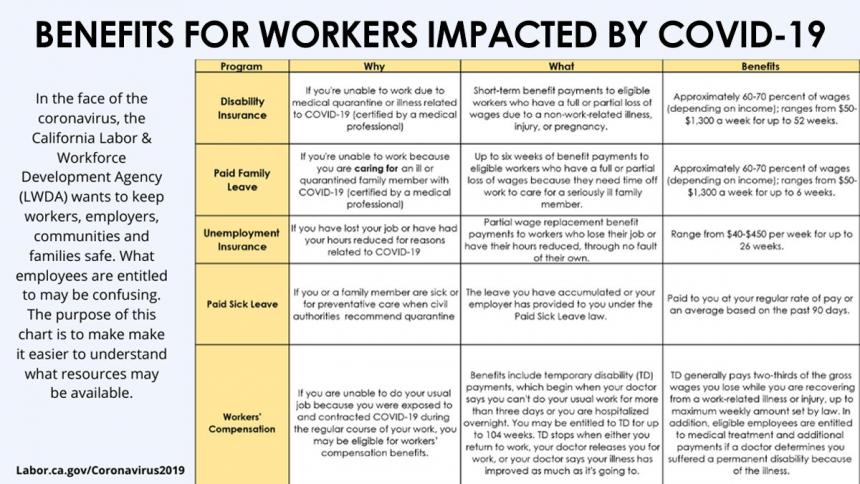 ---
If your small business or private non-profit organization has been affected by COVID-19, you may be eligible for a low-interest federal loan from the U.S. Small Business Administration (SBA). The SBA is offering Economic Injury Disaster Loans of up to $2 million in assistance to cover a temporary loss of revenue. You can apply online at this link, and learn more about the SBA Economic Injury Disaster Loans in California at this link. 
---
Governor Newsom issued Executive Order N-28-20 to authorize local governments to halt evictions for renters, slow foreclosures, and protect against utility shutoffs for Californians affected by COVID-19. These protections are in effect through May 21, 2020. This order does not relieve a tenant from their obligation to pay rent, or restrict a landlord's ability to recover rent that is due.
Renters
The County of Santa Clara issued a moratorium on evictions for non-payment of rent by both residential and commercial tenants directly impacted by the COVID-19 pandemic through May 31, 2020. Read the full text of the ordinance at this link. 
Tenants must be prepared to demonstrate that their failure to pay rent is related to a substantial loss of income or substantial out-of-pocket medical expenses resulting from the 2020 COVID-19 pandemic.
This order applies to all cities within Santa Clara County, including San Jose, Campbell, Los Gatos, Monte Sereno, Cupertino, and Saratoga. 
Within 120 days of the expiration or termination of the ordinance, tenants must pay all past-due rent.
Landlords may not charge or collect a late fee for rent that is delayed during the ordinance period or for 120 days after.
Homeowners
Governor Newsom has secured commitments from Citigroup, JPMorgan Chase, U.S. Bank, Wells Fargo, and nearly 200 state-chartered banks, credit unions, and servicers to offer mortgage payment forbearances of up to 90 days to borrowers economically impacted by COVID-19. In addition, the financial institutions will not report late payments to credit reporting agencies for those taking advantage of COVID-19 relief, and, for at least 60 days, institutions will not initiate foreclosure sales or evictions. Finally, for at least 90 days, institutions will waive or refund mortgage-related late fees and other fees, including early CD withdrawals. 
Importantly, these protections are not automatic. Contact your lender to discuss COVID-19 relief.
Like renters, borrowers should be prepared to demonstrate and document a substantial loss of income or substantial out-of-pocket medical expenses related to COVID-19. 
Please note that financial institutions and their servicers are experiencing high volumes of inquires. 
Bank of America has not committed to offer this relief for borrowers. 
Learn more about COVID-19 relief from financial institutions at this link. 
---
As the novel coronavirus spreads in our state, I understand that community members are fearful for their health and safety. However, this does not make discrimination, hate crimes, or micro-aggressions against people of Asian descent acceptable in any situation. 
The Asian Pacific Planning and Policy Council (A3PCON), Chinese for Affirmative Action (CAA), and San Francisco Asian American Studies Department have launched a reporting center to collect and track incidents of anti-Asian American and Pacific Islander (AAPI) hate violence, adult harassment, discrimination, shunning, and child bullying in California and throughout the country. If you have experienced or witnessed anti-AAPI hate, harassment, or discrimination, please share your story at http://bit.ly/Stop-AAPI-Hate. 
I encourage the community to report incidents of hate crimes they have experienced or witnessed so law enforcement can monitor and address the issue. Our community will not tolerate this bigotry. During times of hardship, we must come together and unite against hate.
---
Meals during school closures:
On March 13, 2020, the Santa Clara County Office of Education announced that all public schools will close for three weeks, beginning on Monday, March 16, 2020. To ensure that all students continue to receive lunch during this time, "grab and go" meals will be offered at some school sites. Students must be under 18 years old and present for pick up, and meals may not be consumed on-site. For the most up-to-date information on school meals, please visit your school district website.
Cupertino Union School District
Cupertino Middle School: 1650 S. Bernardo Avenue, Sunnyvale, CA 94087
San Jose Unified School District
Hoover Middle School: 1635 Park Avenue, San Jose, CA 95126
Galarza Elementary: 1610 Bird Avenue, San Jose, CA 95125
Almaden Elementary: 1295 Dentwood Drive, San Jose, CA 95118
Campbell Union High School District
Boynton High School: 901 Boynton Avenue, San Jose, CA 95117
Prospect High School: 18900 Prospect Road, Saratoga, CA 95070
Westmont High School: 4805 Westmont Avenue, Campbell, CA 95008
Leigh High School: 5210 Leigh Avenue, San Jose, CA 95124
Branham High School: 1570 Branham Lane, San Jose, CA 95118
Del Mar High School: 1224 Del Mar Avenue, San Jose, CA 95128
Campbell Union School District
Blackford Elementary: 1970 Willow Street, San Jose, CA 95125
Capri Elementary: 850 Chapman Drive, Campbell, CA 95008
Castlemont Elementary: 3040 Payne Avenue, Campbell, CA 95008
Lynhaven Elementary: 881 Cypress Avenue, San Jose, CA 95117
Rosemary Elementary: 401 West Hamilton Avenue, Campbell, CA 95008
Sherman Oaks Elementary: 1800 Fruitdale Avenue, San Jose, CA 95128
Monroe Middle: 1055 S Monroe Street, San Jose, CA 95128
Los Gatos Union School District
Raymond J. Fisher Middle School: 19195 Fisher Avenue, Los Gatos, CA 95032
Saratoga Union School District
Saratoga Elementary School: 14592 Oak Street, Saratoga, CA 95070
---
The organizations below are offering free food to those in need. These resources are family-friendly, age-friendly, and immigrant-friendly. 
Sacred Heart Community Services: 1381 S. First Street, San Jose, CA 95110
Offering pre-packaged food boxes and financial assistance for low-income residents impacted by COVID-19. For more information, call (408) 278-2160. 
Second Harvest of Silicon Valley: Text GETFOOD to (408) 455-5181 or call (800) 984-3663
Offering healthy food items and groceries.
Meals on Wheels: Leave a message at (408) 350-3246
Offering meal deliveries and to-go meals for seniors age 60 and up. 
CalFresh: Apply over the phone at (800) 984-3663 or online at getcalfresh.org
Offering financial assistance for food purchases. Immigrants can receive CalFresh if at least one member of the household has legal residency. 
---
Tax deadlines:
Both the IRS and the California State Franchise Tax Board (FTB) have postponed tax filing and payment deadlines until July 15, 2020 for all individuals and business entities for: 
2019 tax returns
2019 tax return payments
2020 1st and 2nd quarter estimate payments
2020 LLC taxes and fees
2020 non-wage withholding payments
Taxpayers do not need to claim any special treatment or call FTB to qualify for this relief. For more detailed information, visit the Franchise Tax Board website.
Property Tax Deadline: April 10, 2020
The deadline for the 2nd installment of property taxes is still due on April 10, 2020. Critical county services rely on scheduled property tax revenues. These funds are vital to our community and help fund sanitation systems' maintenance, school districts, road construction, and more. 
If you cannot pay the full amount that is due, residents have the option of making partial payments by April 10. Penalties would be applied only to the unpaid balances and are usually assessed systematically on April 11. Residents can submit a penalty waiver on the Department of Tax and Collections (DTAC) website. Waiver requests will be reviewed in accordance with the standard set forth in the state Revenue and Taxation Code—that a late payment is "due to reasonable cause and circumstances beyond the taxpayer's control, and occurred notwithstanding the exercise of ordinary care in the absence of willful neglect."
In addition, Assembly Budget Committee Chair Phil Ting and Assembly Revenue & Taxation Committee Chair Autumn Burke have urged the Association of County Treasurers and Tax Collectors to waive late payment penalties and costs for reasonable cause and announced their plans to advance emergency legislation to retroactively waive interest and penalties for homeowners and other taxpayers adversely impacted by this pandemic. 
Please visit the County of Santa Clara Department of Tax and Collections website for more detailed information.
---
The Department of Motor Vehicles (DMV) has asked law enforcement officers to exercise discretion for 60 days in their enforcement of driver license and vehicle registration expiration dates beginning on March 16, 2020. The DMV may also waive vehicle registration penalties. 
To protect Californians, walk-in appointments and behind-the-wheel driving tests are currently suspended. Check the DMV website for the most up-to-date information or to utilize their online services.
President Trump recently announced that the Department of Homeland Security will be extending the REAL ID deadline due to the ongoing public health crisis. We will update this page when the new REAL ID deadline is formally adopted.
---
Scam Alerts:
As during any disaster situation, scammers attempt to target our most vulnerable neighbors. Help stop scams by sharing this information with your family and friends. 
There is no FDA-approved vaccine for COVID-19.
Treatments are available for symptoms and our researchers are working around the clock to develop a vaccine, but there is currently no vaccine available to the public.
Do not give out your personal information.
The CDC and other public health officials will never ask for your health insurance or financial information. Do not give out your Medicare number, Social Security number, or personal information in response to unsolicited calls, texts, emails, or home visits. 
Beware of federal stimulus scams. 
The Federal Trade Commission (FTC) is anticipating a barrage of scamming as the federal economic stimulus payments rollout. Remember:
The government will not ask you to pay anything up-front to receive an economic stimulus payment. No fees. No charges. No nothing. 
The government will not call to ask for your Social Security number, bank account, or credit card number.
These reports of checks are not yet a reality. Anyone who tells you they can get you the stimulus money now is a scammer. 
---
Student Loan Relief:
On March 20th, the US Department of Education announced that all borrowers with federally held student loans will automatically have their interest rates set to 0% for a period of at least 60 days. In addition, each of these borrowers will have the option to suspend their payments for at least two months to allow them greater flexibility during the national emergency.
Private Student Loans
For now, Californians with private student loans can contact their loan servicer directly and ask for relief. If loan servicers are willing to pause payments, borrowers should also ask the servicer to stop assessing interest during the pause. Before contacting their servicer, borrowers should be prepared to provide detailed information about how their income has been affected by the response to COVID-19. The California Department of Business Oversight is also working on guidelines to its private student loan servicer licensees on how they should work with consumers during this crisis.
---
Californians interested in volunteering during the COVID-19 crisis should check with our local food banks and blood banks. The "California Volunteers" program has also created a helpful website for folks to learn how they can safely help their neighbors. Learn more at this link. 
1. Host a blood drive or donate blood with the American Red Cross.
Donated blood has decreased dramatically. Healthy, eligible donors are urged to come out and give to ensure there's lifesaving blood on the shelves for those who need it most. To find a blood drive, visit this link or call 1-800-733-2767. 
2. Volunteer to sort and distribute food with Second Harvest of Silicon Valley.
Food banks are in great need of volunteers to help pack and sort food. They are taking every precaution to prioritize volunteer safety. Second Harvest of Silicon Valley is accepting individual and group volunteers to sort and distribute food. Learn more on their website or by calling (408) 266-8866. 
3. Donate to a shelter or food bank. 
Our local food banks and homeless shelters are running low on essential items. Please call or visit your neighborhood nonprofit's webpage to learn what items are most in need.
4. Stay home to save lives!
Social distancing by staying home and only leaving to go to the grocery store or pharmacy is proven to flatten the curve and save lives. By doing so, we reduce community transmission of the novel coronavirus and support our first responders. Encourage your friends, family, and neighbors to stay home by sharing the graphic below on social media. Those interested in supporting small businesses in Assembly District 28 may consider ordering take-out or delivery from our local restaurants or purchasing gift cards from their service providers (nail and hair salons, book stores, restaurants, etc.) for use after the pandemic.