2017 Year in Review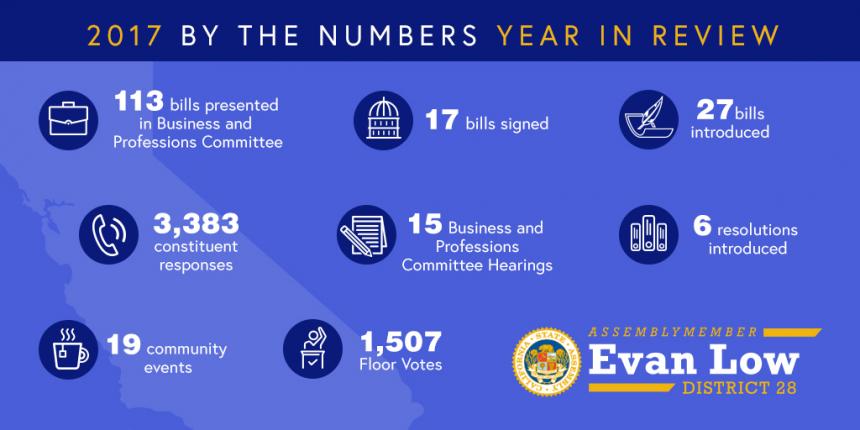 We had a very productive legislative session in Sacramento this year! 17 of my bills were signed into law by Governor Brown, and Democrats and Republicans in the legislature worked together to tackle the housing crisis and pass a long overdue transportation infrastructure funding package.
Back home in Assembly District 28, I hosted 6 community coffees to discuss the issues that matter most to you. The 1,507 votes I took on the Assembly floor were in large part shaped by the 3,383 emails, letters, faxes and phone calls you made to my office. More than 120 of you attended my annual Holiday Open House to submit bill ideas, which we are reviewing as we craft our 2018 legislative package.
Your active participation in our democracy is crucial to me, so I invested much of my time this year encouraging the next generation to vote, write, protest, and lead. I brought a group of 30 students and four councilmembers to the Capitol in August to learn what it is like to be a legislator. I also spoke with students at Leland, Monta Vista, Prospect, Archbishop Mitty, and Bellarmine high schools about the importance of community involvement.
From President Trump's travel ban and the recent FCC decision repealing net-neutrality, to the election of Danica Roem, the first transgender state legislator, and the passage of California's landmark environmental Cap & Trade legislation, this year has been filled with highs and lows. In April, I hosted a Town Hall to help our community heal after the divisive 2016 election cycle, and last month I partnered with CAIR to host a Bystander Intervention Training so our community has the tools to act against hate.
I wish you a very Happy New Year and a joyous holiday season! I look forward to hearing from you in 2018, so please do not hesitate to contact me with your ideas and opinions.