State of Assembly District 28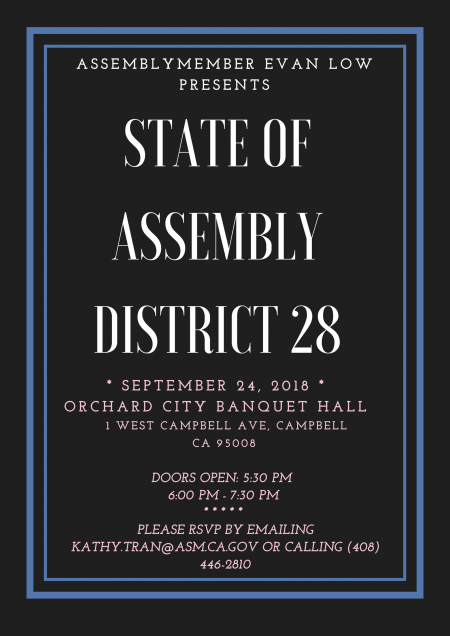 Date: Monday, September 24, 2018
Doors Open: 5:30 PM
Program: 6:00 – 7:30 PM
Location: Orchard City Banquet Hall: 1 West Campbell Avenue, Campbell, CA 95008
Please join me at my State of Assembly District 28 event. At this inaugural address, I will update you on my work in Sacramento and we will celebrate some extraordinary folks contributing to the AD28 community.

Congratulations to our 2018 AD28 Community Heroes:
Robert Braunstein: Executive Producer & Host of Cal-Hi Sports Bay Area
Stephanie Black: Program Director at Community United San José
Lisa Blanchard: Executive Director & Founder of the Grateful Garment Project
George Blumenthal, Ph.D.: Chancellor of the University of California, Santa Cruz
Danielle Cohen: Board Trustee for the Campbell Union School District
Max Duganne: CEO of the Boys & Girls Club of Silicon Valley
Rudy Flores, Jr.: Chair of the San José Parks & Recreation Commission
Agent Dan Stromska: Campbell Police Department
Rev. Erik Swanson: Pastor at Westhope Presbyterian Church
Mu-Yeh Morris Wu & Wendy Wu: President of the World Federation of Chinese Traders & Chief Executive of Overseas Chinese Association
Light refreshments will be provided. If you have any questions pleas email Kathy Tran at Kathy.tran@asm.ca.gov or call (408) 446-2810.